Alps (Giorgos Lanthimos)
"Alps, Yorgos Lanthimos's caustic fourth feature, is as bizarre and elliptical as Dogtooth and Kinetta, and like its offbeat predecessors has an inexplicable power to draw the viewer into its hermetic web of inhuman relationships. This fine example of cinema of the absurd focuses on a bizarre club whose members are paid by family of the deceased to "stand in" for their loved ones, living in their homes and reciting the dead person's words by rote. Given the emotional distance the director puts between his characters and the audience, Alps is a strictly intellectual game that will leave most viewers in the cold. After festival audiences puzzle over it, it should eke out highly selected art house patrons looking for something different." (Debora Young,
The Hollywood Reporter
)
"Lanthimos continues to prove himself a supremely controlled, disciplined filmmaker: his use of focus alone could form the basis of a film school class, and it's always interesting to note what he doesn't show, frequently cutting off or obscuring faces and relying on body language. "Alps" has proven Lanthimos to be one of the most fascinating filmmakers anywhere right now, and, while there's no immediate news on when it'll hit on the U.S., or anywhere outside Greece, we're confident it'll be one of the most talked-about films of the next year: with so much to talk about, how could it not be?" (oliver Lyttelton,
IndieWire
, A).
"With 2009's acclaimed Dogtooth, Lanthimos earned a reputation as the laughing mortician of contemporary Greek culture. This splendidly icy, opaque picture goes further still, showing a world nudged off its axis and an emotional topography where the signposts are backwards and the satnav scrambled. Lanthimos has a habit of shooting his characters from behind, or half out of frame, keeping them mysterious and unknowable, while their listless reading of rehearsed lines walks the line between comical and creepy." (Xan Brooks,
The Guardian
, ****)
"Lanthimos again displays an impressive formal command that extends from the screenplay to the pic's technical prowess. Widescreen, shallow-focus lensing is beautifully composed and pays special attention to the faces of the actors, who again inhabit a space somewhere between theatrical and natural, befitting characters who are often involved in role play themselves. Further craft contributions are all topnotch." (Boyd Van Hoeij,
Variety
"Doubling down on its predecessor's polarizing absurdist humor and chilly formal grace, "Alps" applies those virtues to a more diffuse, ensemble-driven structure that is in no hurry to reveal its rich thematic adhesives of doubling and substitution. It'd be rash to call it a better film than "Dogtooth," but it is, in the relative scheme of these things, a bigger one, and exciting evidence of restless formal development on the part of its director. (Lanthimos' regular DP Thimios Bakatakis' camerawork is as calculated and sparing with space and depth as before, but more active and richer in palette.)" (Guy Lodge,

In Contention

)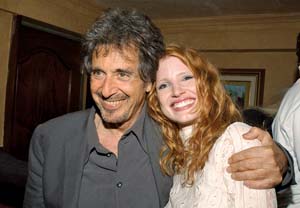 "More personal and obsessive than his 1996 Shakespeare documentary Looking for Richard, with which it has much in common, Al Pacino's long-in-the-making Wilde Salome is both an intriguing exploration of Oscar Wilde's play about the destructive use of sexuality and an intimate self-portrait of the actor/director as he over-extends himself into performing Salome on stage and shooting a film -- this film -- at the same time. Playing mostly himself but also King Herod and, in one scene, Oscar Wilde, with whom he toys with identifying, Pacino is the creator and real subject of the work. For all its esotericism, the film can count on the star appeal of veteran Pacino and rising star Jessica Chastain, fascinating in the role of Salome, to take wing with specialized auds following its Venice bow out of competition." (Debora Young,
The Hollywood Reporter
"Al Pacino has long been drawn to "problem" classics: "Richard III," "The Merchant of Venice" and now "Salome." It's not so clear the plays are drawn to him. Despite frequent declarations of his fixation with "Salome," Pacino as both helmer and star fails to make clear the source of this obsession; nor does he demonstrate a particularly focused understanding of the play or Oscar Wilde. Auds ignorant of either one will find information to sip on rather than chew, though Pacino's name guarantees limited arthouse exposure followed by rotation on culture channels." (Jay Weisserberg,

Variety

)
Shame (Steve McQueen)
"Still, what a gifted film-maker McQueen is turning out to be. He composes every frame exquisitely, from the tableau-like opening image of Fassbender sprawled in bed looking dead-eyed. There's an impressive a long tracking shot as Brandon runs the length of several city blocks, using the exertion to quell his inner rage. And then there's a key scene in a club, where Sissy sings New York, New York from beginning to end. It's usually performed in triumphalist mode, but Mulligan, a gifted chanteuse, turns it into a slow, mournful blues. For once, Brandon shows emotion, wiping away a tear; the song becomes a comment on the life that imprisons him." (David Gritten,
The Telegraph
)
"Few filmmakers have plumbed the soul-churning depths of sexual addiction as fearlessly as British director Steve McQueen has in "Shame." A mesmerizing companion piece to his 2008 debut, "Hunger," this more approachable but equally uncompromising drama likewise fixes its gaze on the uses and abuses of the human body, as Michael Fassbender again strips himself down, in every way an actor can, for McQueen's rigorous but humane interrogation. Confrontational subject matter and matter-of-fact explicitness will position the film at the higher end of the specialty market, but it's certain to arouse critical acclaim and smart-audience interest wherever it's shown." (Justin Chang,
Variety
)
"Driven by a brilliant, ferocious performance by Michael Fassbender, Shame is a real walk on the wild side, a scorching look at a case of sexual addiction that's as all-encompassing as a craving for drugs. Steve McQueen's second feature, after his exceptional debut with Hunger in 2008, may ultimately prove too psychologically pat in confronting its subject's problem, but its dramatic and stylistic prowess provides a cinematic jolt that is bracing to experience. This sexually raw film will stir considerable excitement among critics and serious audiences, making it an attractive proposition for an enterprising distributor in the wake of festival play in Venice, Telluride, Toronto and New York." (Todd McCarthy,
The Hollywood Reporter
)