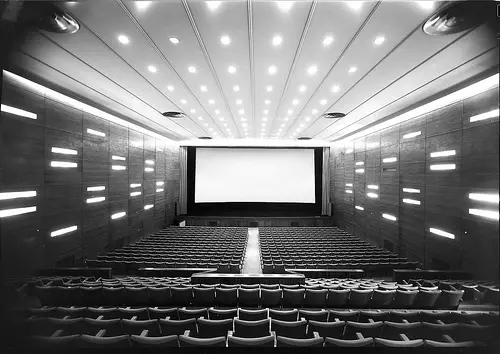 Note: This text is displayed in both English and Portuguese.
Nota: Este texto está disponível em inglês e português.



Horror films landing in Portugal - Part I: Why should it be any different ?
The Portuguese cinema lives dark times. It always has.
While national critics congratulate themselves for their extra-developed intellect, that allows them to realize the geniality of Portuguese films, the filmmakers themselves tap each other on the back for another festival nomination from God knows where, to no one's care. Both factions have similar views on why people don't buy tickets to acknowledge the new
Teresa Vilaverde
's
Cisne
(
Swan
?) or the new
Paulo Rebelo
's
Efeitos Secundários
(
Secondary Effects
?): the State doesn't provide enough money to the industry and the people are consumed by prejudice against their homemade culture and are infected by americanized popcornism.
The reason why I'm making such a stark introduction is because I do believe this is a very artistic way to conceal the actual problem, being that there seems to be someone willing to change the course of the ship - don't get me wrong, there have been some good things, just take a look at
José and Pilar
.
When you notice $200.000 films premiering in
Sundance
and crossing the $1.000.000 profit barrier only in domestic distribution, you question the money problems -
Another Earth
(2011). When you peek at the multiple investors in
Carnage
- Germany, Spain, France, Poland - you question the money problems. The expression has been on the road for a while: think outside the box. Being creative also means endorsing a creative production - intelligent contacts, agile methods, pragmatic solutions. Go international, search for partnerships, accept and take advantage of globalization. And for God's sake, stop shooting in film.
The Curious Case of Benjamin Button
(2008) was was digitally shot and won the Oscar for
Best Cinematography
. If such was done, they wouldn't need to deceive themselves by blaming the audience, which takes me to that second point: prejudice against Portuguese films.
The King's Speech
(2010) won several
Oscars
in 2011
,
Best Picture
among them. There's no better seal of approval than this one, whether you like it or not. With the very modest budget equivalent of $15.000.000 (almost setting a new record, after the around $14.000.000
The Hurt Locker
(2009) became the cheapest film to ever win
Best Picture
), it grossed about $250.000.000 worldwide. In the Portuguese market it took, according to the
Film and Audiovisual Institute
(
ICA
), 327.330 people to the theaters, in a total of 1.566.424,05€. If in 2010 the Institute had optioned all the money available for subsidies to the production of
Tom Hooper
's film, it wouldn't have got paid in Portugal. Actually, no film would. So why should the Portuguese films be ? Why is the Portuguese audience the one responsible for the commercial failure of homemade movies when they don't even bother to collect 10cent. worldwide ?
If your answer is, like that from the critics and filmmakers, we don't have the money for international distribution, I say check two paragraphs above, we're over it. If the film is any good, good money will come after it. European co-productions. And then, the Americans don't care if they're watching an Hungarian story or a Portuguese one, they'll either double it or remake it.
But there's yet another point. The Portuguese critic and filmmaker usually tends to refer to the Portuguese people as an inferior piece of human being, that of bellow-average intellect and cultural background, incapable to understand and feel delighted with their cinematographic babies. But then if they watch the very same thing other people watch all over the world, does that mean the whole world suffers from some kind of epidemic stupidity or mental dullness that our elite doesn't ?
Money is not the issue here. People are not the guilty ones. The State doesn't know how to rule it and the Institute doesn't have the slightest taste for strategy and is filled with corruption and Godfathers. Then try to do as everybody else: aim at the privates, that's where the money is. Here or anywhere. But for that you need to think outside the box, as I said earlier. You'll need a great idea. You'll need a great project. You'll need marketing vision. You'll need to work very hard. Do we ? The Institute attributes half a million euros to directors who are still to premier the film they made with the same amount of money the same Institute provided one year before. What, everybody thinks he's Woody Allen, now ? The Coen brothers ? You'll need to be professional. Are we professional, in Portugal ? I do doubt it, I do doubt it with all my heart.
The Portuguese cinema lives dark times. It always has.
This time, something much darker threatens to rise. But this time it feels good, fresh, new, empowering. Check in tomorrow to know how and why we can have hope in some people. People like us, who love films.
Filmes de Terror aterram em Portugal - Parte 1: Porque que razão devem trazer algo diferente ?
O cinema português vive tempos negros. Sempre viveu.
Enquanto os críticos nacionais se congratulam pelo seu intelecto sobre-desenvolvido, que lhes permite notar a genialidade dos filmes portugueses, os próprios cineastas dão palmadas nas costas uns aos outros por cada nova nomeação num festival de sabe Deus onde, sem que ninguém queira de facto saber. Ambas as facções têm visões semelhantes quanto ás razões pelas quais o público não compra bilhetes para ver o novo filme de Teresa Vilaverde, Cisne, ou o novo de Paulo Rebelo, Efeitos Secundários: o Estado não providencia dinheiro suficiente para a indústria e as pessoas estão consumidas por preconceito contra a cultura feita cá dentro e estão infectadas por um americanismo de pipocas.
A razão pela qual faço uma introdução tão aguçada é o facto de acreditar que esta se trata de uma forma bastante artística de esconder os verdadeiros problemas, tendo noção de que há gente disposta a mudar o rumo do barco - não me interpretem mal, têm havido coisas boas, vejam
José e Pilar
.
Quando reparamos em filmes de $200.000 a estrear em Sundance e a ultrapassar a barreira de $1.000.000 em receitas apenas com distribuição doméstica, colocamos em causa os problemas do dinheiro. Quando espreitamos os múltiplos investidores de Carnage - Alemanha, Espanha, França e Polónia - colocamos em causa os problemas do dinheiro. A expressão têm andado na estrada desde há uns tempos:
think outside the box
. Ser criativo significa suportar uma produção criativa - contactos inteligentes, métodos ágeis, soluções pragmáticas. Pensar internacionalmente, procurar parcerias, aceitar e tirar partido da globalização. E, por favor, parem de filmar em película. O Curioso Caso de Benjamin Button (2008) foi filmado em digital e venceu o Óscar de Melhor Fotografia. Se se fizesse isto, não haveria razão para se enganarem a eles próprios, culpando o público, o que me leva ao segundo ponto: preconceito contra os filmes portugueses.
O Discurso do Rei (2010) venceu vários Óscares em 2011, Melhor Filme entre eles. Não há melhor selo de credibilidade do que este, quer gostemos ou não. Com o bastante modesto orçamento de $15.000.000 (quase batendo o record de Estado de Guerra (2009), que custou cerca de $14.000.000 e tornou-se o filme mais barato de sempre a vencer Melhor Filme), fez $250.000.000 em todo o mundo. No mercado português arrecadou, de acordo com o Instituto do Cinema e Audiovisual (ICA), 327.330 espectadores, num total de 1.566.424.05€. Se, em 2010, o Instituto tivesse aplicado todas as verbas disponíveis para os subsídios na produção do filme de Tom Hooper, o filme não se teria pago em Portugal. Na verdade, nenhum filme teria. Então porque deveriam os filmes portugueses conseguir ? Porque é que os espectadores portugueses são os responsáveis pelo falhanço comercial dos filmes feitos cá dentro quando estes nem se preocupam a colher 10cent. lá fora ?
Se a vossa resposta é, tal como a dos críticos e dos cineastas, não há dinheiro para a distribuição internacional, eu digo para olharem dois parágrafos acima. Está ultrapassado. Se o filme tiver alguma qualidade, bom dinheiro virá atrás dele. Co-produções europeias. E, depois, os americanos não querem saber se estão a ver um filme húngaro ou português; vão dobrá-lo ou refazê-lo.
Mas há ainda outro ponto. O crítico e o cineasta português tende a referir-se ao público como uma pedaço inferior de ser humano, aquele de intelecto e conhecimento cultural abaixo da média, incapaz de compreender e de se sentir deliciado com os seus bebés cinematográficos. Mas, se o que fazem é ver a mesma coisa que outras pessoas vêem em todo o mundo, significa isso que todo o mundo sofre de alguma espécie de epidemia de estupidez ou superficialidade mental que não afecta a nossa elite ?
Dinheiro não é problema, aqui. As pessoas não são as culpadas. O Estado não sabe como governar as coisas e o ICA não tem a mínima inclinação para estratégias e está mergulhado em corrupção e compadrio. Por isso, tentem fazer como toda a gente: fazer pontaria aos privados, é aí que está o dinheiro. Cá ou em qualquer outro sítio. Mas, para isso, temos de pensar mais além. É preciso uma grande ideia. É preciso um grande projecto. É preciso uma visão de marketing. É preciso trabalhar arduamente. Trabalhamos nós arduamente ? O ICA atribui meio milhão de euros a realizadores que ainda estão por estrear filmes que fizeram com a mesma quantidade de dinheiro que o mesmo ICA ofereceu um ano antes. O quê, julgamo-nos todos o Woody Allen ? Os irmãos Coen ? É preciso ser-se profissional. Somos profissionais, em Portugal ? Duvido disso, duvido disso com todo o meu ser.
O cinema português vive tempos negros. Sempre viveu.
Desta vez, algo muito mais negro ameaça erguer-se. Mas, desta vez, é bom, fresco, novo, traz força. Apareçam amanhã para saber como e porque é que podemos ter esperança em algumas pessoas. Pessoas que, como nós, amam o cinema.